Arborist Certifications
What is a Certified Arborist?
To earn an ISA Certified Arborist credential, you must be trained and knowledgeable in all aspects of arboriculture. ISA Certified Arborists must also adhere to the Code of Ethics that strengthens the credibility and reliability of the workforce. This certification covers a large number of topics giving the candidates flexibility in the arboricultural profession. You must have one or both of the following:
Three or more years of full-time, eligible, practical work experience in arboriculture
A degree in the field of arboriculture, horticulture, landscape architecture, or forestry from a regionally accredited educational institute
What is T.R.A.Q.?
ISA offers the Tree Risk Assessment Qualification (TRAQ) as an instructor-led credential that demonstrates professional knowledge in tree risk assessment through participation in a training course and passing its accompanying exam. The TRAQ program offers tree care professionals the opportunity to expand their knowledge of the fundamentals of tree risk assessment by learning a standardized, systematic process for assessing tree risk and providing information to tree owners and risk managers for making informed decisions that will promote the safety of people and property and enhance tree benefits, health, and longevity. Through education and training, arborists will learn strategies to systematically identify and assess tree risk.
What is T.C.I.A. Accreditation?
TCIA Accreditation is a third-party consumer confidence verification program administered by the Tree Care Industry Association (TCIA) – American's oldest and most respected tree care trade association.
TCIA Accreditation helps consumers identify qualified tree care companies who conduct business in a safe, legal, and ethical manner.
"Accreditation begins to validate that a company, not just an individual, has the capacity to perform arboriculture services as a whole, in a manner that follows all regulatory requirements across the board."
Kevin Caldwell, Caldwell Tree Care (Accredited since 2007). 
Accreditation is a business growth program that gives tree care companies the tools to strengthen the foundation of their businesses and construct a successful future.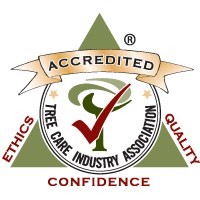 Registered US Federal Contractor
ISA Certified Arborist
The Certified Arborist credential identifies professional arborists who have a minimum of three years' full-time experience working in the professional tree care industry and who have passed an extensive examination covering all facets of arboriculture.
Contact us Today to Schedule An Appointment